I rarely plug internal projects on my personal blog as I think it can come across as a little vain. But as an avid sports nut who has written about digital sports marketing many times in the past (and rambles on constantly about AFL on Twitter), I think this one's probably relevant. Next Digital has been the digital partner for the MCG for at least 3 years, and late last week we helped them launch their first iPhone application: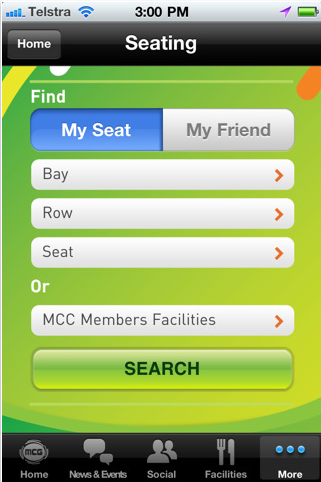 The app provides a bunch of useful features for sports fans to enhance their experience when they visit the ground, including:
A seating locator tool enabling patrons to find their seat, along with their friends' seats
Real time car park updates, which anyone who has ever driven to the MCG on gameday will understand the value of
A facility locator map (especially essential for those of us who need to find both a bar and a bathroom during the game!)
Integrated social features including photo sharing and Facebook Places check ins (side note – with over 75,000 check ins the MCG in amongst Australia's most checked-in venues)
Aside from that there's a bunch of other standard features such as news, travel information & travel information.
If you're a sports fan like me, you can download the app from the App Store now.