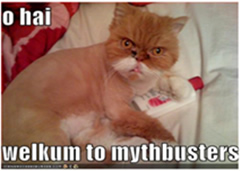 A few weeks back I published the first article in my new mythbusting series. The series is dedicated to debunking common myths (aka excuses) middle managers use to block corporate entry into social media. The first post debunked the perception that social media only affects the vocal minority. This time round I'm taking on the argument that a product is too boring to succeed in social media. To bust this myth I've decided to take a look at a range of social media success stories born from some of the most boring products on the planet…
H&R Block
Have you heard this one before – When does a person decide to become an accountant? When they realise they don't have the charisma to be an undertaker. Lame jokes aside… that pretty much sums up the perception of tax accountancy. So it would come as a surprise to many to hear of H&R Block's successful ventures into social media.
Despite selling perhaps the most boring service in the world, H&R Block have managed to generate buzz in a range of social media channels. The most creative execution involves a fictional character named Truman Greene who's obsessed with tax, or more specifically… spreading the message on how to get more from your return (via a series of YouTube videos). Truman's a little annoying and most of his videos struggled to generate more than a couple of thousand views, but a couple hit the mark. My favourite is below, although it wasn't nearly as successful as this one, which was viewed over half a million times.
YouTube success aside, H&R Block has also ventured into the world of Twitter, albeit with a more serious slant to their participation. H&R Block reps roam the Twitter-verse in order to connect with people talking tax (what an exciting bunch). They also regularly give away copies of tax software (even more exciting). But… mock them as I may, over 1,000 people find enough value in their participation to have followed them. So they must be doing something right. For more insight on their Twitter participation, check out this interview with Amy Worley of H&R Block.
And for those still unconvinced about the social web's love of tax, take a look at TurboTax's YouTube competition. TurboTax set out the challenge of creating a 'tax rap'. The winning video has drawn over 350,000 views. Biggie Smalls must be rolling over in his grave…
Common Wealth Credit Union
The social goodiness in the financial sector doesn't end with our accounting friends. Commonwealth Credit Union (CCU) joined in on the act, creating a multi-layered social campaign for…**drum roll**… a savings account. How Hollywood is that…? Convinced the Gen Y segment was being underserviced (and smelling the opportunity of lifetime value), CCU created a savings account exclusively for the under 25′ers. Perhaps pessimistic of their ability to connect authentically with the Gen Y audience, they decided instead to create an ambassador role  for an under 25′er to take up the challenege and spread the message to the people.
Entries to become the ambassador were submitted via video, with the audience themselves deciding who got the job. Once appointed, the ambassador's role was to connect with the youth and discover what they wanted from their financial institution (duh… money). This was predominantly done via the Young & Free web site, where the ambassador used tools such as video, blogs & podcasts to connect with Gen Y. The results are impressive with 80,000 YouTube views and almost a thousand blog comments. Most important however was the 960% growth in new account openings in the 19 to 25 age group.
Boring product yes… but you can't argue with those results!
Blendtec
It would be negligent of me to publish this post without mentioning BlendTec… not because it's one of the most successful viral campaigns of all time, but because it was achieved with one of the most boring products in the world. You know the story… small time company hits it big by producing a series of short videos that showcase their product blending an assortment of weird and wonderful items. Tens of millions of viewers and 150,000+ subscribers later, Blendtec is now a household name. The iPhone video alone attracted almost 3 million views…
What's most impressive about the campaign though is the product at the centre of it. A blender for goodness sakes. An everyday kitchen appliance. Actually, come to think of it a blender is hardly an everyday appliance. I'd be lucky to use mine more than once a month. Yet Blendtec have transformed their blender into a virtual rockstar.
Go figure…
Kleenex
The Klennex example is the least celebrated of the case studies, but I think it deserves some props. If I was working within the marketing department at Kleenex I suspect leveraging 2.0 tools would be the last of my concerns. After all, how glamorous can a disposable snot rag be…? Yet the folks at Kleenex have come up with a pretty interesting concept. It's called Let It Out and is a variation of the Digg model.
Rather than focus on the product (or what may be inside it), they focused upon the emotions associated with a tissue… crying, laughter, joy and of course… blowing. A social network was built around these emotions with the tag line 'experience the release'. The site encourages users to share their stories of laughter, joy and sorrow with the community. Other members can then show their support by giving a Kleenex tissue to the author (aka voting for it). The network isn't experiencing server breaking traffic, but the most popular stories have over 100 tissues/votes.
Which isn't bad for a snot rag…
And on that note I declare this myth… busted!!
No product is too boring to succeed in social media. If tax accountants and bankers can make it happen, anything is possible. Indeed, a product is only as boring as the marketing team around it. Creativity can bring any product alive in the social web. Of course, with creativity comes risk. But one thing is for sure… playing it safe in social media is a sure fire road to mediocrity.